Biotix has embraced a comprehensive approach to help minimize plastic waste. One-time use laboratory consumables are essential to scientific research, but we are making them with less plastic and superior quality. Our technique focuses on addressing the issue at its source: by designing and manufacturing products that use less plastic. Our sustainable practices start before products are even manufactured, thereby minimizing the amount of plastic entering the waste stream in the first place.
Reducing how much plastic goes into each product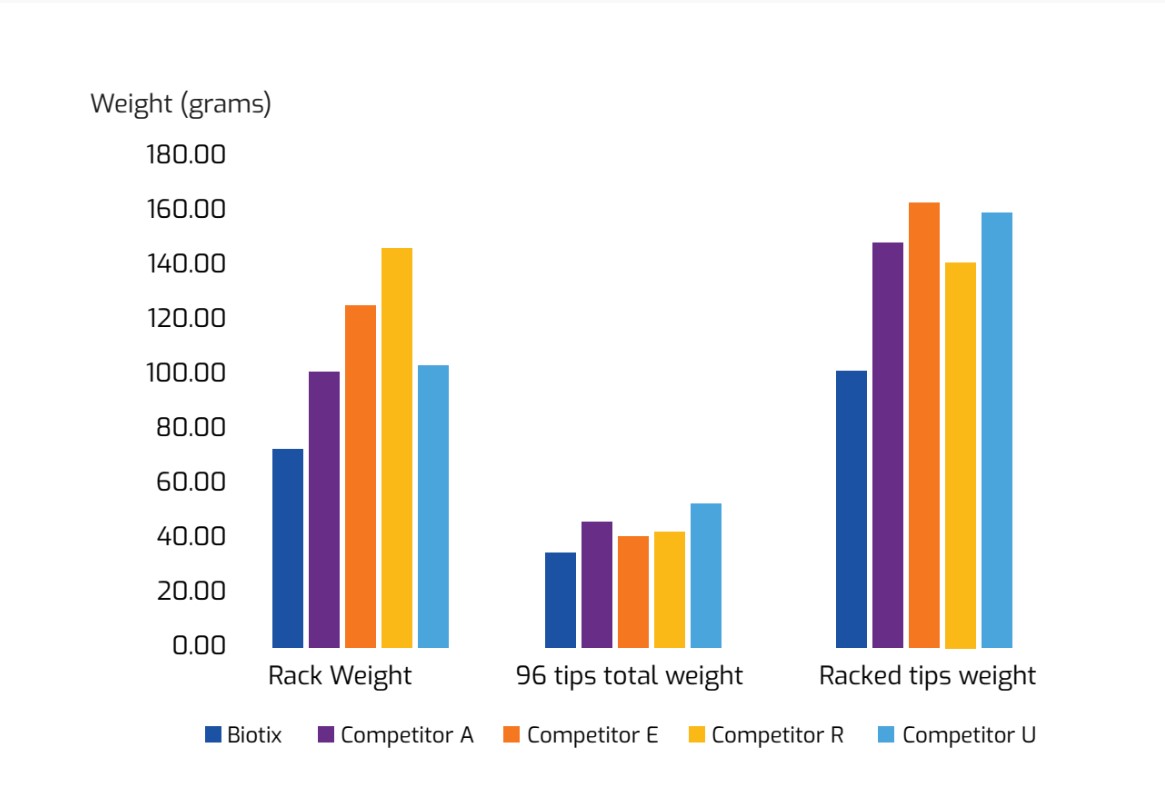 Our efficient tip designs contain over 30% less plastic than competitor tips. Through our investment in industry-leading engineering and innovation, we are able to offer this low-waste option while still maintaining exceptional quality.
In addition to our success in eliminating waste from our pipette tips, we also offer the lightest pipette tip rack in the world. This rack aligns with our sustainable philosophy while also providing stability and a user-centered function. As this chart illustrates, Biotix is leading the industry by minimizing plastic waste across our product line.
Products that align with our sustainable values
CleanPak: 50% less waste
Simple resealable packaging design drastically reduces the amount of plastic waste. LTS and universal pipette compatible.
Tip Eject reloads
This push-to-load reload design offers a fast and contact-free reload process. Compatible with LTS pipettes .
Optimus rack
Our recyclable Optimus rack base can also be reused as an automation 96-well reservoir, reducing costs and optimizing plastic reduction.
Streamlining manufacturing processes to save resources
Biotix plastics are produced on a new generation of electric and hybrid molding machines that consume 30% less electric than traditional hydraulic systems. This equipment is twice as accurate as traditional hydraulic systems and uses substantially less energy. Adherence to Six Sigma lean programs and premium raw materials result in fewer defects and less waste.
Try Our Products to Experience the Difference
When it comes to lab equipment, sometimes you just need to see it for yourself. Contact us today for samples to test out in your lab and see firsthand how Biotix products are unique.