Reducing how much plastic goes into each product
At Biotix, sustainability starts before the tips are even manufactured. Our efficient tips designs contain over 30% less plastic than competitor tips, and are made from easily recyclable polypropylene. Our pipette tips' FlexFit feature is designed with alternating thick and thin ribs to reduce the amount of plastic required, while maintaining manufacturing quality.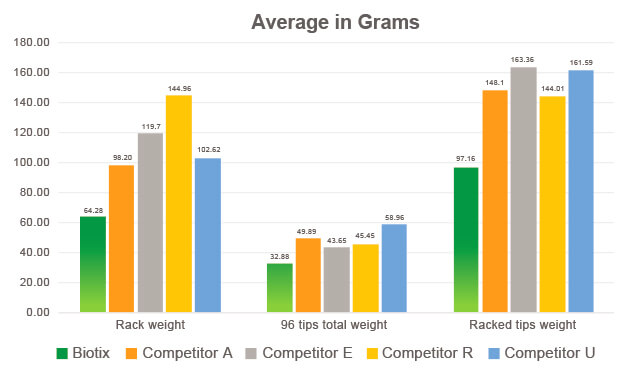 Since 2016, we have reduced the thickness of our shrink wrap, launched new reload systems, and re-designed our pipette tip rack, in a successful effort to reduce the amount of plastic we produce.
Reusable and recyclable products
We make the lightest pipette tip rack in the world.  Like our tips, the Biotix tip rack uses over 30% less plastic than the competition while still providing stability and user-centered function. The rack base can be reused as an automation 96-well reservoir, reducing costs and optimizing plastic reduction. Its unique design includes pyramidal wells on the bottom of the rack that pool liquid together, so you can extract every last droplet. Plus, it's 100% recyclable.
In addition, our LTS Compatible Tip Eject™ reload tips feature a push-to-load design, reducing necessary bench space by 80% and also reducing waste.
CleanPak reload tips (LTS and Universal Pipette Compatible) contain no cardboard contamination and also reduce waste.
Streamlining manufacturing processes to save resources
Biotix plastics are produced on a new generation of electric and hybrid molding machines that consume 30% less electric than traditional hydraulic systems. This equipment is twice as accurate as traditional hydraulic systems and uses substantially less energy. Adherence to Six Sigma lean programs and premium raw materials result in fewer defects and less waste.
Try Our Products to Experience the Difference
When it comes to lab equipment, sometimes you just need to see it for yourself. Contact us today for samples to test out in your lab and see firsthand how Biotix products are unique.