Plates
A full range of products for your every need.

Assay Plates
Biotix assay plates are ideal for a broad range of applications including compound libraries and combinatorial chemistry. Raised "chimney" wells reduce cross-contamination and allow secure application of sealing mats and films.
---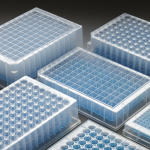 Deep Well Microplates
These sturdy deep well microplates can support centrifugation up to 6,000 RCF when supported by the appropriate plate rotor. Biotix deep well microplates are also stackable to save space in incubators and freezers.