20 μL CleanPak Reload, Sterilized
Part Number: 63300010
Improve the ergonomics of your lab with xTIP4 pipette tips. These tips feature positive stop technology ensuring every tip you attach ejects with minimal force. Everyone in your lab will benefit from the low ejection force without having to change his or her technique or pipetting style. xTIP4 tips are made for a perfect fit on the Biotix xPIPETTE, they are also fully compatible with Rainin's LTS pipettes.
Compatible with Biotix xPIPETTE and Rainin's LTS pipette
Uses 50% less plastic than racked product when you reuse your empty rack bases.
Arrives at your lab hermetically sealed
Ziploc top provides better protection when stored
Easily identify the tip size with color coded snapcards
Lot and part number are printed on every reload
Each lot of Biotix tips are tested and certified free of DNase/RNase, endotoxins/pyrogens, PCR inhibitors, and human DNA.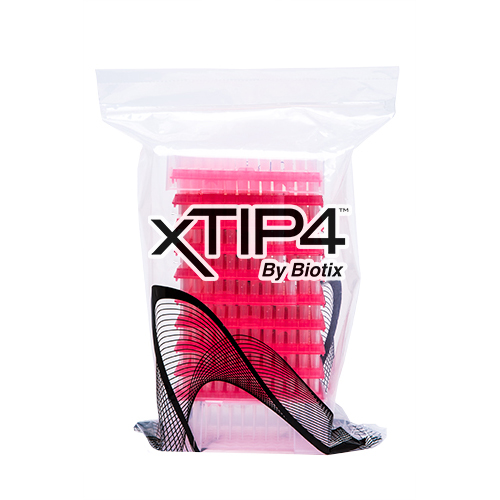 Product Specifications
Compatibility
Volume
Sterilized
Filtered
Packaging Type
Quantity
MSRP

LTS

20 μL

Yes
No

CleanPak

10 refills of 96/pack

5 packs/case

$ 44.00

$ 220.00
| Literature | |
| --- | --- |
| Technical Bulletin | |
| Brochure | |
| Data Sheet | |