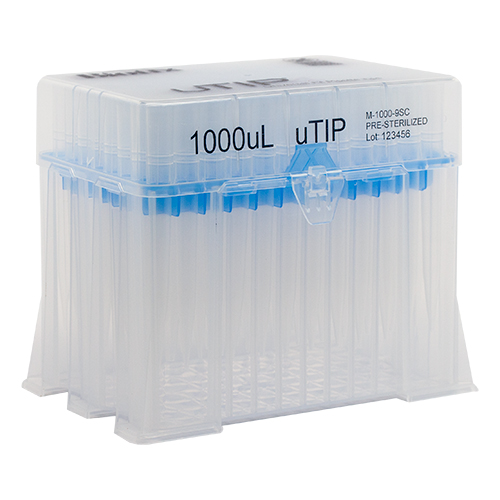 Part# 63300060
Legacy Part# M-1000-9NC
Biotix uTIP pipette tips are designed to improve the performance of universal pipettes. These tips are engineered with FlexFit technology to create a strong seal with less insertion and ejection forces on every universal pipette. Two additional features, X-Resin and Blade technologies help maximize your sample recovery and create reproducible results.
Universal fit, compatible with a wide range of pipettes
Light insertion and ejection forces
Low binding X-Resin maximizes your sample recovery
Reduce plastic waste, Biotix tip racks use 30% less plastic then leading competitors
Reduces the need for tip touch off with a fine point Blade design
Working Volume: 100-1000µL
Biotix tips are certified free of DNase/RNase, endotoxins/pyrogens, PCR inhibitors, and human DNA.
Innovative Features
uTIP universal pipette tips feature:

FlexFit®Flexible Proximal End
Reduces the amount of force needed to attach and eject a tip, reducing the risk of repetitive stress injuries (RSI).

X-Resin®Low Retention
X-Resin is our proprietary resin that is proven to reduce sample retention, resulting in improved accuracy.

Blade®Optimal Surface Area
Blade technology lowers the chance of hanging droplet formation by optimizing surface area at the distal end of the tip, saving time with each draw and improving precision.
Product Specifications
Compatibility
Volume
Sterilized
Packaging Type
Quantity
Universal

1000 µL

No
Racked

10 racks of 96/pack

4 packs/case