Create the perfect fit with FlexFit
FlexFit technology provides a superior fit and secure seal for precise and accurate pipetting. This patented feature provides flexibility on the proximal end of tips, dramatically minimizing the necessary insertion and ejection forces between pipettor and pipette tips, thus improving ergonomics. FlexFit is found in all uTIP Pipette Tips for universal pipettes and in all xTIP Pipette Tips for Rainin LTS-style pipettes.
uTIP Pipette Tips
xTIP for Rainin LTS
Feel the difference flexibility can make.
Superior universal fit and secure seal for precise and accurate pipetting
Reduced risk of repetitive stress disorder (RDS)
Tested by an independent laboratory: U.S. Ergonomics (Sea Cliff, NY)
Use our universal tips with the Cobra pipette for additional ergonomic benefits.
---
See Related Products: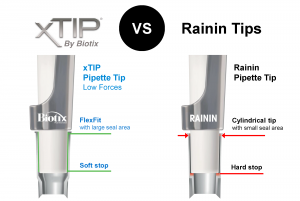 The perfect fit for Rainin LTS Pipettes.
No hard stop in the tip
Less insertion and ejection force required
Watch as we compare Rainin LTS pipette tips with Biotix xTIP Pipette Tips to see which tip requires less insertion forces to achieve a secure seal on a Rainin Lite Touch pipette.
---
See Related Products: