Clean delivery to maximize sample recovery
Minor sample variations introduced by pipetting can impact results. Blade technology lowers the chance of droplet formation by optimizing surface area at the distal end of the tip saving you time with each draw. Our patented X-Resin technology can help ensure robust data by diminishing the presence of residual fluid in pipette tips. See how each technology works.
Say goodbye to tip touch-off.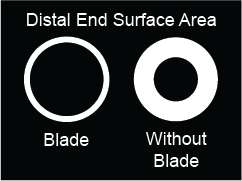 Blade technology reduces hanging droplets increasing both accuracy and precision. Engineers at Biotix have developed a formula that compares the ratio of droplet size with available wall surface. The result is a vastly improved distal end versus that of other tips. Blade technology saves time, improves pipetting ergonomics, preserves valuable sample, and provides more reproducible results.
---
See Related Products:
View the difference X-Resin can make.
X-Resin is engineered to give you reproducible results:
Naturally low retention to minimize loss of valuable and sticky samples
Improves sample uniformity and CV values
Lighter construction uses less material and is more environmentally sustainable
Manufactured and quality checked to strict engineering specifications to filter out defects
---
See Related Products: