Automation Laboratory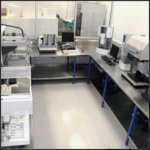 You deserve the best. That's why we've built an in-house ALH Laboratory to ensure that every ALH tip that leaves the Biotix facility meets our expectations – and yours.
In addition to standard quality tests, we use a combination of specialized fixtures and functional application tests. Experienced technicians run our products through a world-class quality system measuring coefficient of variance (CV), total indicated runout (TIR), insertion force and many other functional performance tests on a liquid handler. If a product fails any test, it is rejected to ensure that only the highest quality reaches your laboratory.
Along with best-in-class Serial Numbering traceability, we also conveniently print CV values generated in QC testing on each Biotix product package.