Biotix Automation Pipette Tips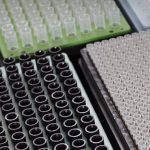 Biotix aTIP Pipette Tips are manufactured to the highest engineering standards for automation systems. The ultra-straight tips target the center of microplate wells, delivering exceptional accuracy and precision. Specifications are designed to ensure complete compatibility, reducing the need to adjust programming scripts.
Browse for the perfect pipette tip for your liquid handling system through our collection of tips for:
Biotix and Biodirect/The LabSquad have partnered to offer you premier automation support. Find out what this means for you.